We're pretty big on combining web-based tools with traditional planning practices at Urban Decision Group.   In fact, we kind of think it's a big deal.  So much so that Rick Stein took something of a mini speaking tour across the midwest last summer.  While most of these talks revolved around finding and using public data, it turns out there's a bit more to the internet than downloadable datasets and mapping applications.
To that end, I was lucky enough to give a presentation with Rick and Jennifer Evans-Cowely during the 2012 APA OKI Regional Conference on the topic of  web-based technology in the planning process.   (See the presentation for yourself here.)  My section focused on social media and some unconventional ways to make use of it.  I spent a lot of time in that presentation talking about Twitter, but today I'd prefer having a short discussion about one of my favorite social media applications, Pinterest.
As you probably already know, Pinterest is popular online curation board where users collect images by saving ("pinning") them to "boards" organized by topic.  The boards can be maintained by an individual user or open to contribution by invite or the public.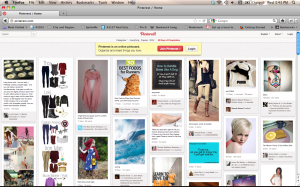 Pinterest was named fastest growing social media site in the history of the internet back in February, and currently boasts over ten million members.  It's highly visual, beautifully designed, immensely popular, and somewhat tricky for businesses and organizations that do not directly sell products or creative services.  However, we're pretty adamant that Pinterest can have a big impact not only for planning related businesses and organizations, but on projects themselves.
Pinterest is useful to planning projects and organizations in four ways:  branding, community outreach, envisioning and inspiration.  Because Urban Decision Group maintains a growing Pinterest page, I'll use us as an example for each of these uses.
Branding
We knew from the start that maintaining a Pinterest page was unlikely to directly result in new clients.  However, because we're a somewhat new company (circa 2010!), it was important for us to start making our presence known in the world.  Moreover, we wanted to make sure that we were establishing a presence that went a bit beyond the mere facts of our company and our employees.  We wanted to showcase what we like to think about, what sort of big ideas inspire us, and what makes us tick as an organization.  In short, we wanted to start establishing context.
I'm no marketing expert, but I believe this is the textbook definition of branding: establishing and telling the story and inspiration behind a company, idea or organization.  We chose to accomplish this by focusing our Pinterest page on the three pillars of our company:  Urban Design, Maps and Mapmaking, and Data Visualization.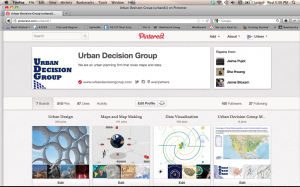 These are the three big ideas that drive our company, and nearly all of our Pinterest activity reflects one of these three topics.  We have a narrative and we choose to stick with it.  Hopefully the planning applications are obvious here.  A company could, of course, choose to take on a similar strategy, but there's no reason that a place or even particular project could not use Pinterest to start establishing context and big ideas.
Community Outreach
Pinterest is the ideal place to start highlighting community ideas and dreams.  UDG doesn't practice much community outreach per say on the company Pinterest page, but we're big proponents of folding Pinterest into the community outreach process.  Group boards could be established for the community to either add images that they felt represent their current communities or that showcase goals and dreams for the future.  Public Pinterest boards have the potential to drive community dialogue and to alert planners to trends in community thinking.
Envisioning
Envisioning, my favorite part of the community outreach process, is where we think Pinterest really shines as a planning tool.  Actionable items should, of course, result from community envisioning exercises, but it is the best time to think boldly and to identify goals that, while maybe aren't immediately attainable, could inspire and guide a community, place or project well into the future.  With its visual nature, Pinterest was made for big ideas.  We use our three pinterest boards not to show the day to day things our company has done, but to push what is beautiful, creative and possible within each category.  In this way we hope to show what moves us as a company and what we aspire to.  Planning organizations and projects could and should take a similar approach with group boards that encourage stakeholders and community members to think big.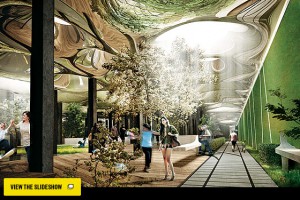 Original source: NY Mag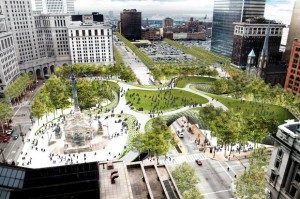 Image:  James Corner Field Operations via urbanism.org.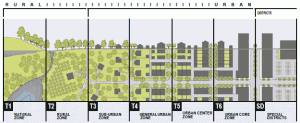 Image:  Andres Duany.  Pinned from this site.
Inspiration
The benefits of thinking big in planning are generating excitement, building community and stakeholder investment and raising standards for communities and projects.  As planners, I don't think we should ignore the fantastic.  Very few people join the planning field because of a deep commitment to the status quo.  Likewise, stakeholders and community members have their own big visions of who they are, where they're going and what is possible.  It's our job in part to distill from these dreams actionable, sustainable and attainable plans to help guide communities to these larger ideals.   Inspiration, like creativity, must be nurtured.  By encouraging creative activity through Pinterest use, planners can rely on the community to crowdsource their energy and ideas to assist with the planning process.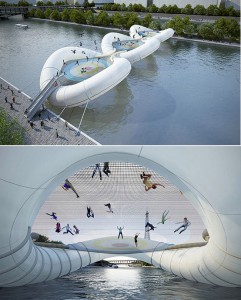 This would be the funnest bridge ever.  Image:  Atelier Zündel Cristea
At the end of the day, Pinterest is just another item in a planner's toolkit.  It's not meant to supplement other, traditional community outreach practices, but it's a great compliment when leveraged correctly and it's a handy visual organization tool.  At the same time, Pinterest can be invaluable to any company seeking a cheap and efficient way to establish its identity to the greater world.    We highly encourage other companies and planners to think of way to incorporate Pinterest use into your social media strategy and planning projects.  Be sure to let us know if you do – we'd love to see what sort of big ideas your company or community is thinking of.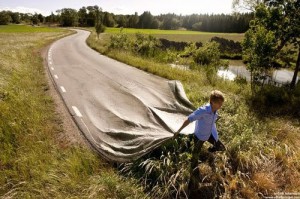 Image:  Martin Grohs